Introduction
This article will show you how to set up your alerts in general. In the same way, you can set up any alert, be it a subscription, Cheers, Raids, or even a Hype Train alert.
Before we start, we need to prepare an overlay that we will use here to create our follower alert. If you haven't done that yet, click here.
We have already created an overlay with a waving cat in the first step.
To start the alert creation, we select "My Alerts" (1) and then "Other Alerts" (2).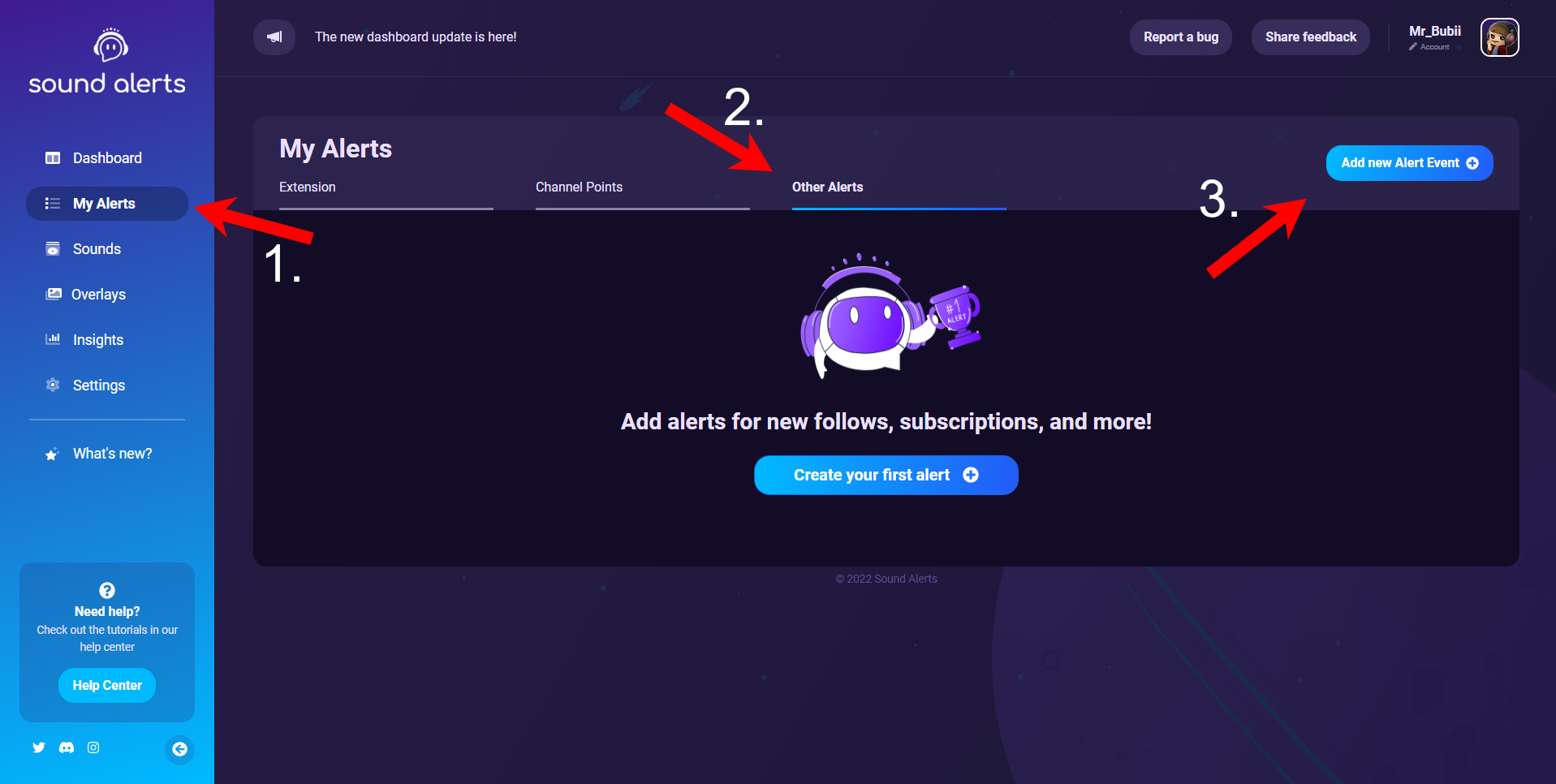 Creating a new event
For your first alert, you can click the button in the middle on "Create your first alert" - for each additional alert, you can click on the button "Add new Alert Event" (3).
Now the "Add a new Alert Event" window opens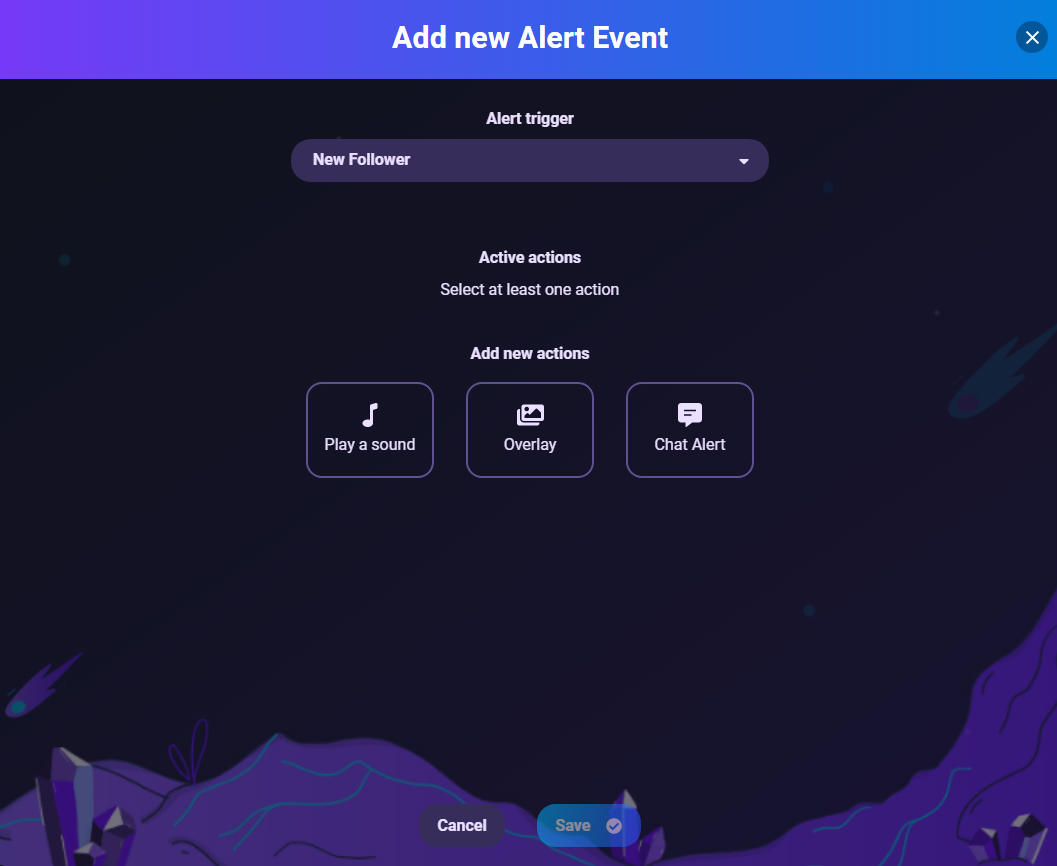 At the top of the page, you have to choose the "Alert trigger". Here you select which event will activate the alert. You can open the dropdown and choose between the following events:
New Follower
Subscription
Subscription Gift
Raid
Cheering
Hypetrain (Choo choo)
Text-To-Speech is only available for Cheering and Subscription events
We stay with new followers and will now choose what should happen within this event. Please note that some of the alert categories can only be used by streamers with the Affiliate and Partner status on Twitch.
Adding a sound
In our example, we want a sound to play, and therefore we choose "Play a sound".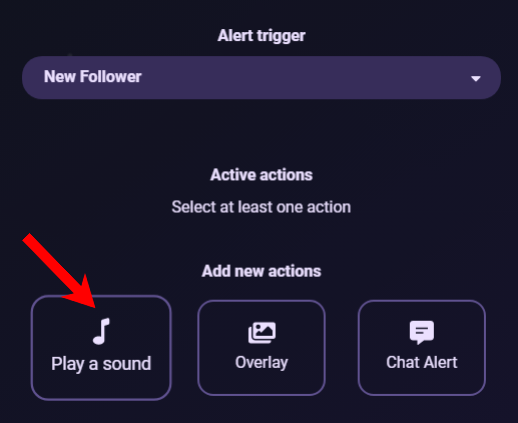 Our sound library will open: You can pick any sound that the community has uploaded here.
In this example, we want to choose a sound within the private library, so we go to "My Uploads" and select "Mokoko Seed" with "Add Sound".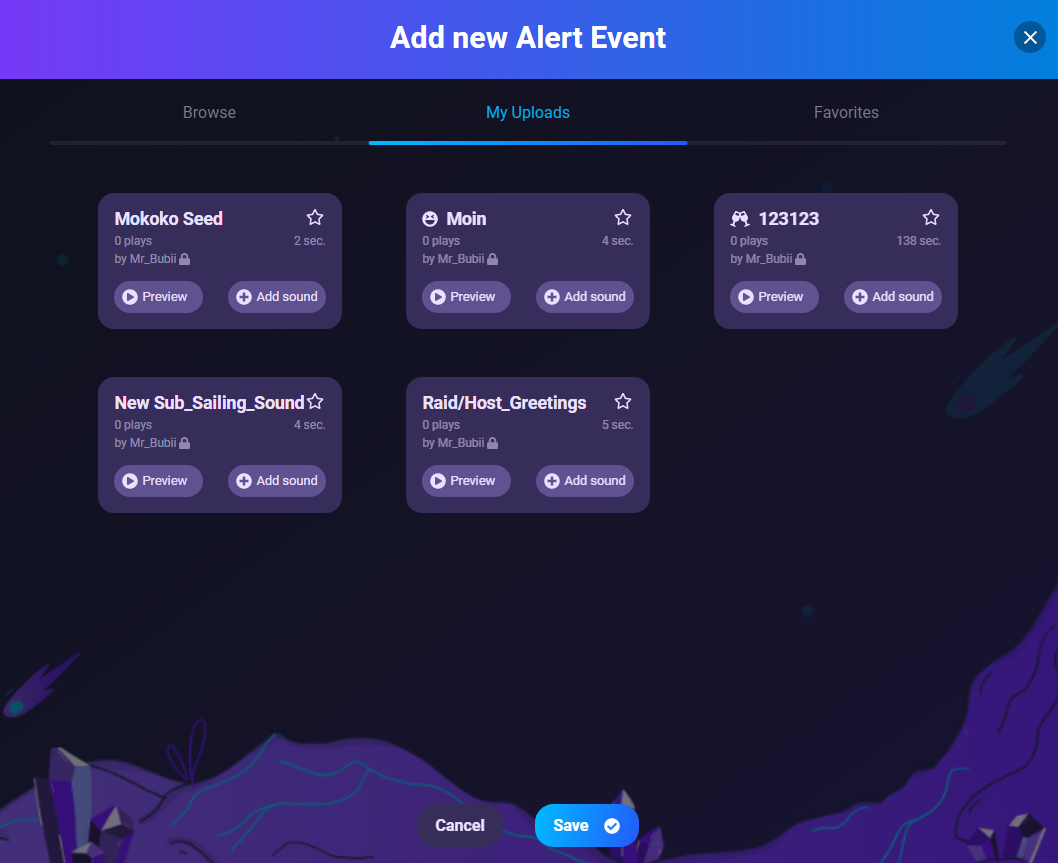 You will be taken back to the overview where your sound is stored.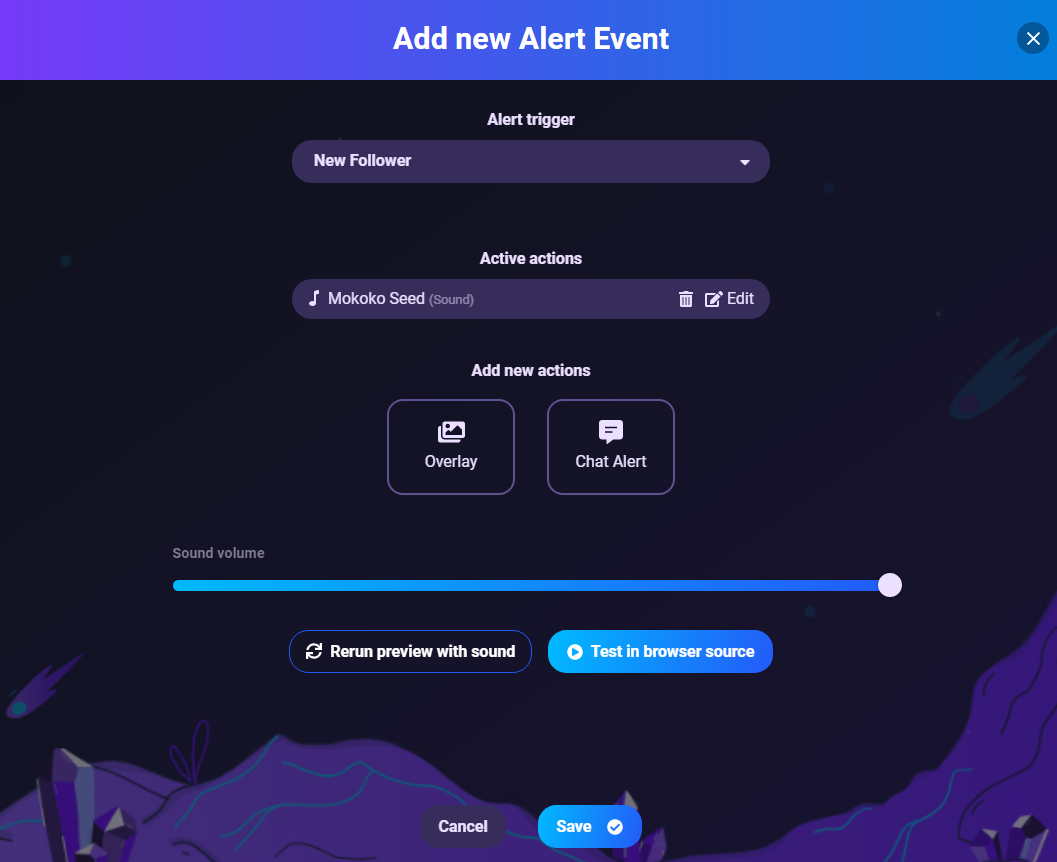 Adding the overlay
Now we would like to combine our alert with a visual overlay. So we click on "Overlay" and select our cat overlay.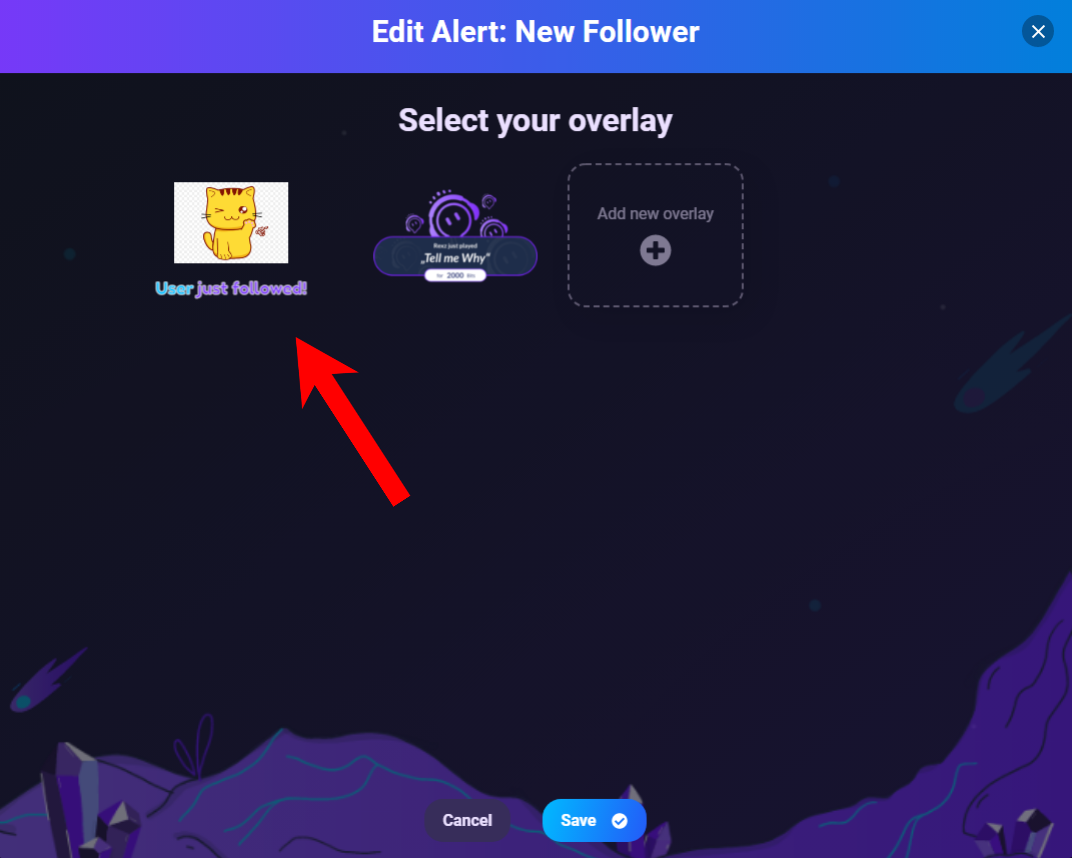 If you now scroll down a little, you can see the preview of your alert.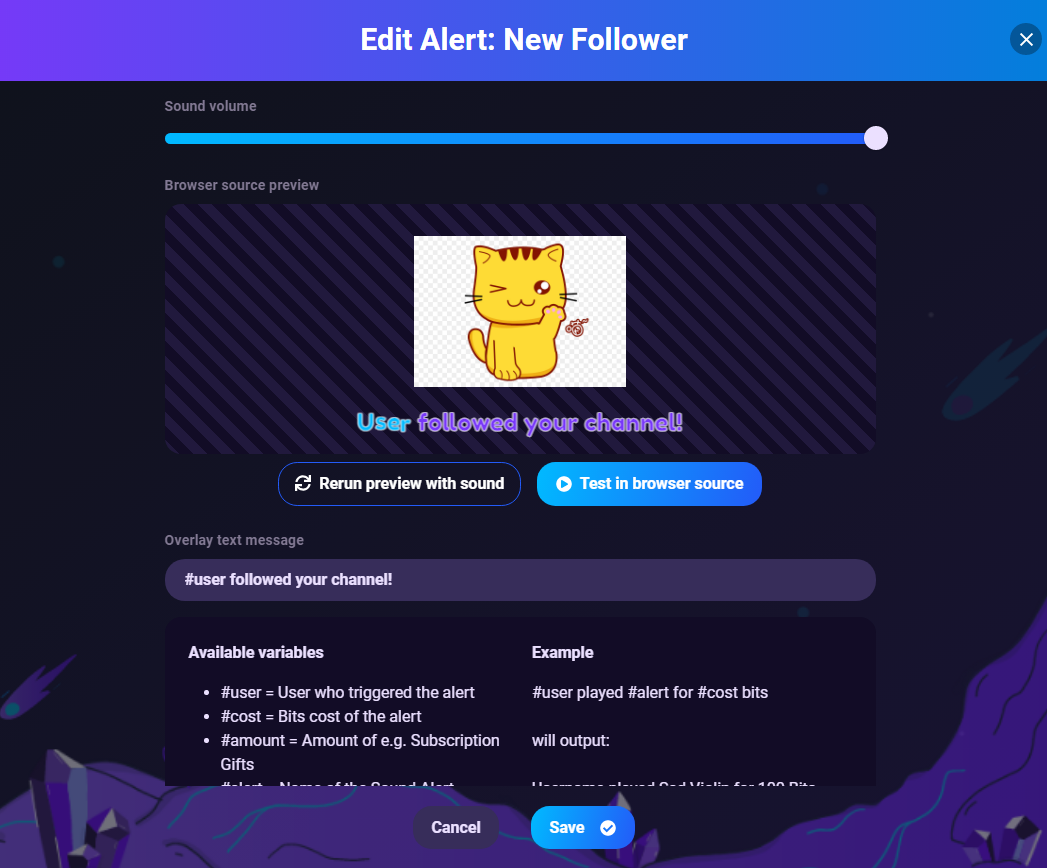 Below is a field where you can change the message under the alert.
I choose "Thank you #user for your follow <3."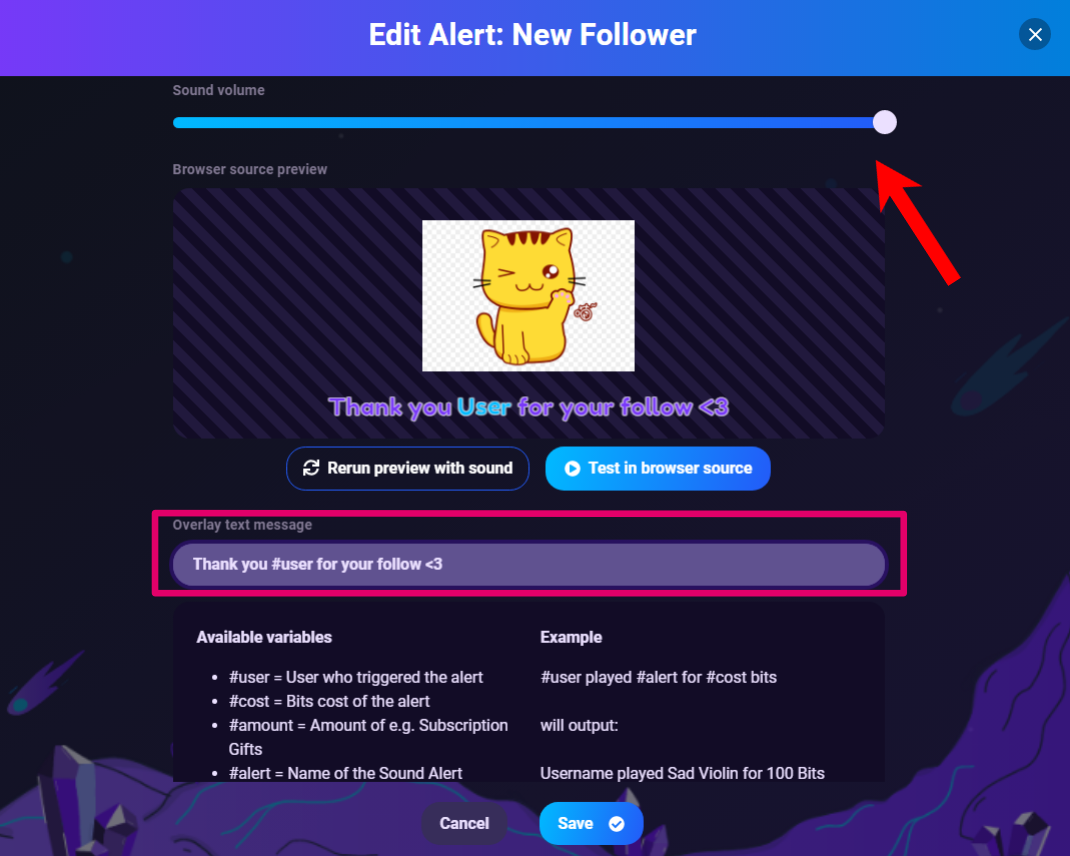 You can also adjust the follower alert's volume above the preview.
You can also add and customize the "Chat Alert".
If you are satisfied with all settings, you should open your streaming program and test the alert. Press the "Test in browser Source" button.
If this works and the alert pops up in your OBS preview, you can press save, and your alert is ready for your livestream.
You will be redirected to the overview, where you can see all your alerts and set up more.

A quick tip: Sound Alerts includes a "Hype Train Alert". Your chance to have something unique on your channel.